The 'Link In Bio' For
Bitcoiners

.
Link to all your pages. Automatically display your social media content. Receive donations. Answer FAQs.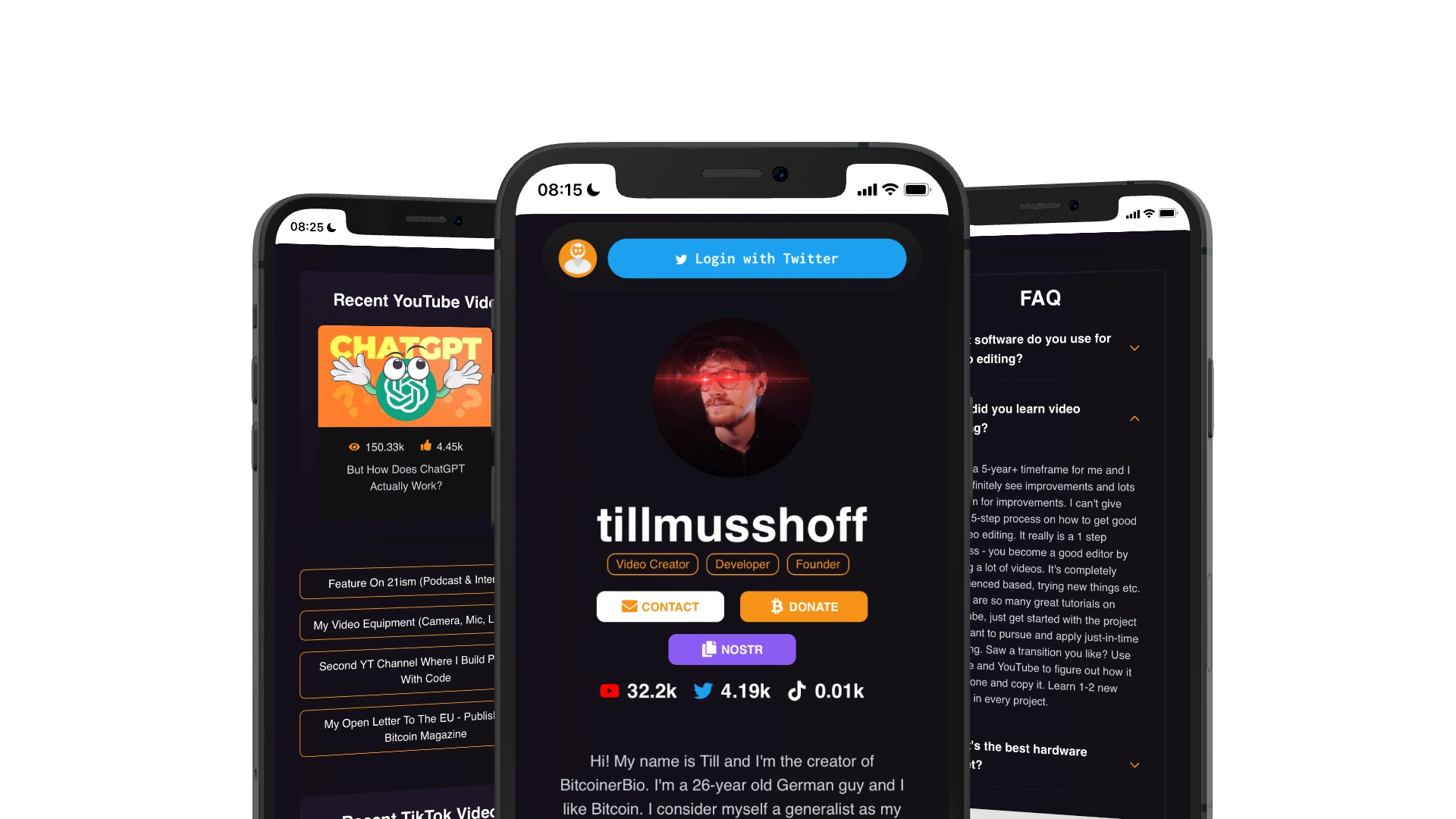 Join These
Bitcoiners
Showcasing Bitcoin Creatives: Create Your Profile Like Other Bitcoin Artists, Writers, Creators, Developers And More.
The Basics:
Add All Your Links
Make it easy for people to find all your online profiles and websites in one place. It also helps you promote your content and brand.
This could link to your website
Or an article you wrote
Or the gear you use to make videos
Login:
Use Your Twitter Account
No need to create a new account. Just use your Twitter account for a streamlined and hassle-free registration. We automatically pull your profile picture and bio. Your profile will be on bitcoiner.bio/yourTwitterHandle.
Social Media Integration:
Automatically Display Your Recent Content
Just connect your YouTube, Instagram, TikTok, Twitch and/or Substack accounts and your bio page will be updated dayly with your latest content and follower counts. This is a paid feature.
Donations:
Easily Receive Bitcoin
Receiving Bitcoin donations doesn't get easier than that. Just add your lightning address in your profile and you're good to go. Chrome extensions like Alby even automatically recognize there is a lightning address in your bio.
There Is More
(And More To Come)
Make it simple for people to contact you, copy your Nostr npub key and answer frequently asked questions, recommend your favourite products and content etc.
Get Started
For Free

!

No credit card required. No strings attached. Upgrade to premium whenever you want. See Pricing.